LED Tape Lighting (White) Not In Use
Three color temperatures
Three brightness options
Indoor or outdoor models
RibbonFlex Pro White LED Tape Lighting delivers superior color rendering for elegant indirect lighting. It is available in three brightness options and three color temperatures: soft white (2700K), warm white (3000K) and bright/natural white (4000K).
Brightness is determined by the density of the LEDs (30, 60 or 120 LEDs per meter). All models are fully dimmable with the use of a low-voltage LED dimmer or an in wall AC dimmer (Lutron style). Learn more
Three brightness densities
of white LED tape lighting –
30, 60 and 120 LEDs per
meter. Each LED produces
6-7 lumens and has a wide
120° beam angle.
Bright – 30 LEDs per meter is well suited for decorative indirect lighting such as above cabinets, in coves, and in tray ceilings – where ambience is the primary effect. At full intensity this model creates about 200 lumens per meter.
Brighter – 60 LEDs per meter provides brighter illumination for under cabinets and in toe-kick areas, where a brighter, more seamless glow is desired. It is a good, all-around solution for accent lighting and lower brightness task lighting. At full intensity this model produces about 400 lumens per meter.
Brightest – 120 LEDs per meter provides the greatest light intensity, and is well suited for task lighting or accent lighting installed very close to an adjacent surface. At full intensity this model delivers about 750 lumens per meter.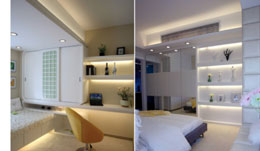 Choose Soft, Warm or Bright / Natural White
Soft and warm white LED lighting emits more yellow light. Bright/natural white, also known as neutral or bright white, outputs a more pure white color and less yellow. Choose soft or warm white LEDs (about 2700K or 3000K) to complement wood tones and enrich colors. Natural white LEDs (about 4000K) are chosen when a more modern look is desired, such as accent lighting for a kitchen setting with cooler colors like grays, blues, blacks, and stainless steel.
The color temperature of light is measured as a number on the Kelvin (K) scale (e.g., 2700K, 3000K, 4000K). High color temperatures output a brighter light and temperatures above 5000K are said to be cool, often with a blue tone to them.
No products were found matching your selection.