Product Description
Indoor Tape Light Package include:

(Excluding 10 Meter Reels)

(2) Low-voltage power wire leads, 48-in. wire lead on one end, 8-in. wire lead on other end

(1) SureLock Wire Lead Connector for bridging gaps

(1) SureLock Splice Connector for extending tape strip lengths

(2) Peel-and-stick Wire Support Clips

(1) Detailed planning and installation guide

Outdoor Tape Light Package include:

(Excluding 10 Meter Reels)

(2) Low-voltage power wire leads, 24-in. each, pre-soldered and sealed to both ends of tape light

(1) Special waterproof wire lead Surelock Connector

(1) Splice connector

(4) Clear adhesive-lined heat shrink tubing

(1) Detailed instructions
Requires a 12-volt DC power supply, sold separately. View options
Fully dimmable; the type of dimmer you choose will be based on how you want to connect and install your LED lighting. Read more
Fully customizable, cut to size every 2 inches (50mm) or easily connect strips together to create longer lengths; uses 3M high-bond adhesive backing for easy peel and stick installation
Tape height/width is about 2mm x 8mm (~1/8 in. X 3/8 in.), easy to hide and will fit almost any space – straight, curved or irregular
A typical 8 ft. length tape light has will use about 14 watts of power at 100% brightness, much less when dimmed
For RV and boat interiors, tape lighting can be powered directly by a 12-volt battery, AC/DC power supply not required
CSA listed, conforms to UL standard 8750MFG,
Class 2 NEC compliant, for dry location use only
Limited three-year warranty
Download Installation Guidelines
Soft white 2700K
is similar to the color temperature of standard incandescent light bulbs, and produces a soothing, warm golden/yellow color.
Soft bright white 3000K is a little whiter, but is still warm, more like halogen light. It is a clean natural color and a popular balance between warm and cool white.
Bright white 4000K is a natural/neutral white, closer to the color of sunlight — not too cool and without a bluish tint.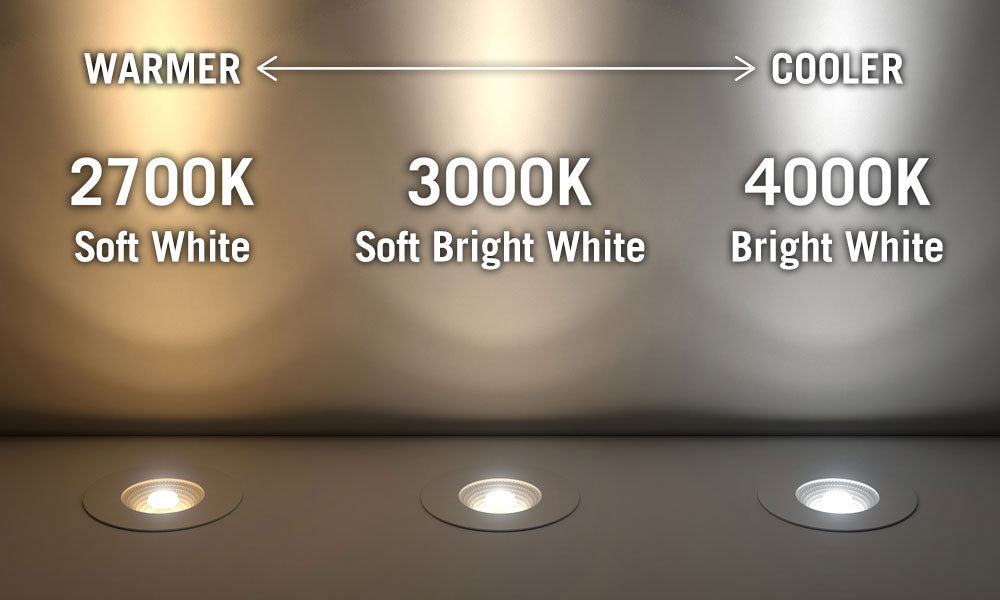 How to calculate total wattage required in lighting system
Using the chart above, determine the watts used in each leg of lighting. A straight run is considered one leg. A center feed is two equal length legs of lighting. An array can have many legs. Include only the lengths of LED tape in your calculation, not the connecting wires.
Add together the watts used in each leg of lighting to get total watts required. Note: this is when lighting is at 100% full brightness and when it will use the most watts energy.